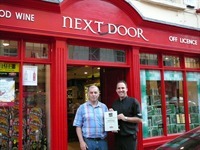 National Off-Licence Award for Clonakilty Store
Tom O' Donovan (left) Manager of Next Door Off Licence, Pearse Street, Clonakilty, and staff member Craig Scott proudly show off their award which named the premises as "Ireland's Best Pub Off Licence" which the business attained at the recent Licensing World Bar Awards.

Next Door Off Licence in Clonakilty, which forms part of the O'Donovan's Hotel business on Pearse St. was recently declared "Ireland's Best Pub Off Licence" at the Licensing World Bar Awards.

Chosen by an expert industry panel, Next Door of Clonakilty emerged victorious from hundreds of entries in the Licensing World Bar Awards to claim the Sobieski Vodka Bar Off Licence Award at a gala banquet in The Four Seasons Hotel, Ballsbridge, Dublin. Brian O'Sullivan, national managing director of Next Door in congratulating Tom, Dena and Therese O' Donovan on the win said, "The Clonakilty Next Door Off Licence" is the flagship of the Next Door off licence franchise, which includes over 50 off licence stores nationwide. We are very proud to be associated with the business, and that the "Next Door" name is over the door".

Manager Tom O' Donovan was delighted with the honour saying that much investment and hard work has gone into developing the off licence over the last number of years. "About two years ago we expanded the premises so that there are now two separate entrances, which means two full time people at work there 7 days a week.

We are very proud of the large range of products we offer in the off licence which spans an extensive wine range, and foreign beers as well as spirits.

While the major supermarkets flaunt their prices, they don't have the range and speciality products that we carry. All our staff are well trained and regularly attend seminars and training events to keep them up to date with new lines. As a town centre business, we are very grateful for the ongoing support of both our regular and passing customers", he concluded.